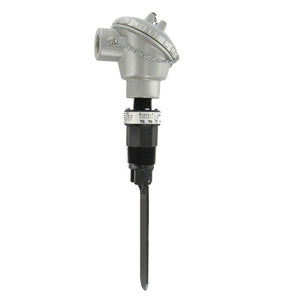 The SERIES V8 Flotect® Vane Operated Flow Switches is ideal for protecting unattended equipment from damage or loss of production. This Series is available for installation in a 1 to 6" pipe with operating pressures are up to 150 psig (10 bar) and temperatures to 100°C (212°F).
Service: Compatible gases or liquids.
Wetted Materials: Vane and Body: Polyphenylene Sulfide (PPS); Pin and spring: 316 SS on Inconel®; Magnet: Ceramic 8.
Temperature Limit: 212°F (100°C).
Pressure Limit: 150 psig (10 bar).
Enclosure Rating: General purpose; WP/WP2 option is weatherproof.
Switch Type: SPDT snap switch; MV option: SPDT gold contact snap switch.
Electrical Rating:5 A @ 125/250 VAC, 5 A resistive, 3 A inductive @ 30 VDC. MV option: 1 A @ 125 VAC, 1 A resistive, 0.5 A inductive @ 30 VDC.
Electrical Connections: 18 AWG 18" (460 mm) long.
Conduit Connection: 1/2" male NPT, 1/2" female NPT on WP and WP2.
Process Connection: 1" male NPT.
Mounting Orientation: Actuation/deactuation flow rates are based on horizontal pipe run and are nominal values. Unit cannot be used with vertical down flow.
Set Point Adjustment: Vane is trimmable.
Weight:4.5 oz (0.13 kg).
Agency Approvals:CE, cURus.