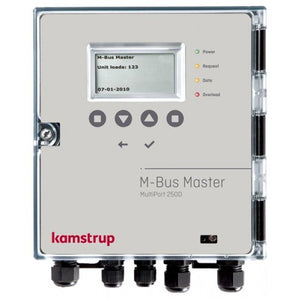 Kamstrup M-Bus Master MultiPort 250L for 250 slaves. Integrated 100- 240V 50/60Hz power supply.
Supports primary, secondary and enhanced secondary addressing and wild card search with collision detection. Includes RS-232, RS-485, USB and optical eye communication ports as well as cascade functionality.
The product picture shown is the 250D with display. The 250L version does not have a display.