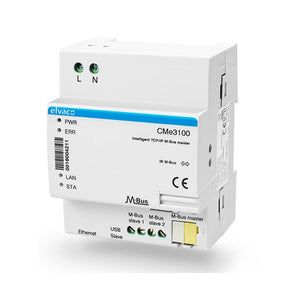 CMe3100 is an M-Bus Metering Gateway for Fixed Networks that reads up to 256 meters, compiles meter data in customized reports and delivers it to a receiving system by a set schedule and integration protocol via the fixed network.
It is compatible with all meters that use the M-Bus standard protocol and Elvaco's CMe/CMeX Series. CMe3100 is easily configured and updated through its web interface and supports a wide range of integration protocols, such as ModBus, DLMS, JSON and REST, which makes it a viable solution for many different types of metering projects.
Through the continuous readout feature, meter data can be delivered in real-time, which might for example be used in an automatic control system. CMe3100 is equipped with a flexible licensing scheme, which allows for a cost-effective customization at the purchase point as well as the possibility to later extend the product functionality without changing the hardware.
Power Supply 230VAC.