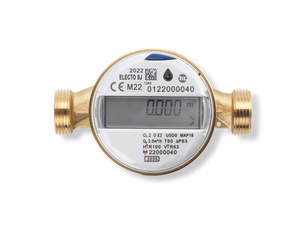 Electronic Single Jet Cold Water Meter.
Integrated Wireless M-Bus (wM-Bus), OMS radio.
3/4" BSP (DN20).
Nominal flow Q3 = 4.0m3/h.
Maximum Temperature = 50 Deg. C.
High Accuracy.

Length = 130mm without unions.
Ideal for residential indoor applications.
Available for hot and cold water.
WRAS APPROVED & MID-certified: R MAX 160.
High protection against external magnetic fields.
Register can be rotated 360°. IP68 protection.
Lithium battery with a minimum life of 13 (default) years.
Fault detection: fraud, loss, overconsumption, reverse flow, blocked meter and reversed meter.
Programming and maintenance kit available upon request.
For further information on the functionality of electronic register and radio transmission, please refer to the instruction manual.
Unions & washers included. Horizontal or vertical installation.
High quality, manufactured in Italy.