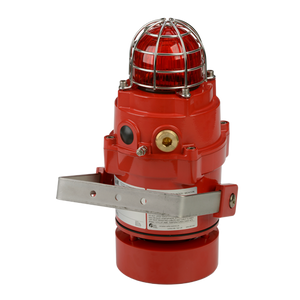 110dB
5 Joule
Xenon Flash
The flameproof BExCS110-05-R combination alarm horn sounder and Xenon strobe beacon with omni-directional horn is suitable for Zone 1, 2, 21 & 22. Approved to IECEx, ATEX, Ex EAC and INMETRO standards.
The radial horn on the compact BExCS110-05-R distributes the audible warning signal omni-directionally allowing the visual signal to be orientated optimally. The alarm horn & Xenon beacon may be connected from a single power supply for simultaneous operation or from separate supplies for independent operation.
The BEx range features enclosures manufactured from corrosion proof, marine grade copper free LM6 aluminium with a chromate and powder coat finish. All models have two M20 cable entries, large termination areas containing in & out terminals and an ingress protection of IP66/67.