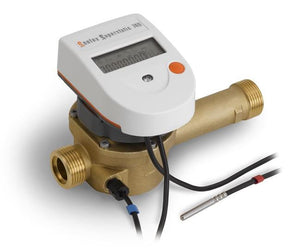 Sontex Superstatic 749 compact energy meter used for measuring energy consumption in heating and cooling applications. Ideal for Heat Interface Units (HIU's) and billing applications.
Class 2 MID approved to EN1434, RHI Compliant.
3/4" BSP Connection.
Compact Mounted Static Flow Sensor with 0.8m Signal Cable.
1.5m Direct Mount Temperature Sensors + 1/2" x M10 Bush.
Nominal Flow qp 2.5 m3/hr.
130mm Length.
12 Year Battery with Pulse Output / 6 Year Battery with MBus.
Glycol Tolerant / Programmable with Ofgem Approved Documentation.
Supplied with Unions / Tails.
Return / Outlet Pipe Install (Flow install available on request).
If you prefer to receive a quotation or looking to purchase in quantity please contact us with your enquiry.
Product Downloads
Brochure
Installation Guide
Technical Data Sheet