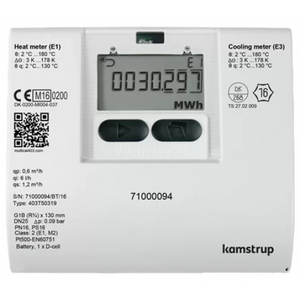 Kamstrup Multical 403 heat meter, MID approved according to EN1434, with integrated ultrasonic flow sensor with 1.5m signal cable. Includes power supply, a pair of short direct or pocket temperature sensors with 1.5m cable.
Class 2 MID approved to EN1434, RHI Compliant.
3/4" BSP Connection (DN20).
1.5m Pt500 temperature sensors + 1/2" BSP pockets.
Nominal flow qp 1.5 m3/hr.
130mm length.
Pulse, MBus, Wireless MBus, Analogue, BACnet and Modbus RTU output available.
Replaceable lithium battery power (230VAC or 24VAC optional).
MID approved to EN1434. RHI compliant. Calibration certificate included.
Threaded meters supplied with unions / tails.
Return / Outlet pipe install (Flow / Inlet configurable onsite).
If you prefer to receive a quotation or looking to purchase in quantity please contact us with your enquiry.