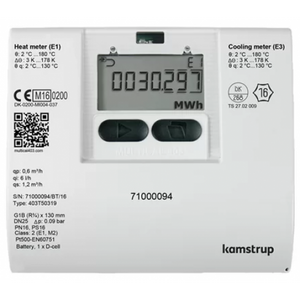 Kamstrup Multical 403 chilled water (CHW) cooling meter with integrated ultrasonic flow sensor with 1.5m signal cable. Includes power supply, a pair of short direct or pocket temperature sensors with 1.5m cable.
1/2" BSP Connection (DN15).
1.5m Pt500 temperature sensors + 1/2" BSP pockets.
Nominal flow qp 1.5 m3/hr.
110mm length.
Pulse, MBus, Wireless MBus, Analogue, BACnet and Modbus RTU output available.
Replaceable lithium battery power (230VAC or 24VAC optional).
Threaded meters supplied with unions / tails.
Return / Outlet pipe install (Flow / Inlet configurable onsite).
If you prefer to receive a quotation or looking to purchase in quantity please contact us with your enquiry.